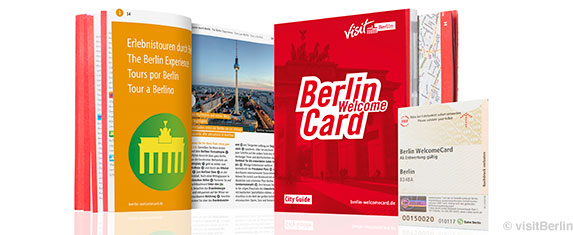 Refundable tickets

Price Match Promise

Bestseller









Berlin WelcomeCard
Berlin WelcomeCard este (aproape) tot ce ai nevoie, atunci când o vizita la Berlin. Berlin WelcomeCard vă oferă transport nelimitat publice (zona AB sau ABC) și reduceri mari pentru peste 200 de muzee, tururi cu ghid, restaurante și wellness.
Ce este inclus?
- Utilizarea nelimitată a transportului public (S + U-Bahn, autobuz, tramvai, tren local)
- Alegeți între 48, 72 ore sau chiar 4, 5, 6 zile
- Travel zona de interior Berlin (AB) sau Berlin + Potsdam (ABC)
- Copiii sub 6 ani sunt liber
- Reducere de 25-50% la peste 200 de muzee, atracții și restaurante
- Un ghid de buzunar la îndemână
- Scoate hartă a orașului din Berlin + Potsdam
Alege-ti Berlin WelcomeCard
Puteți alege între un 48 oră, 72 oră, 5 zile sau Muzeul Island 72 oră Berlin WelcomeCard pentru fiecare Berlin (zona AB) sau Berlin și Potsdam (zona ABC).
Vedeți o hartă a zonelor
de aici!
Berlin zona WelcomeCards AB sunt vaild pentru un adult.
Zona Berlin WelcomeCards ABC sunt vaild pentru un adult + max. 3 copii (până la 14 ani).
Muzeul Island WelcomeCards include, de asemenea, acces gratuit la toate muzeele de pe Insula Muzeelor ​​(Museumsinsel), în trei zile consecutive. Unele expoziții speciale sunt excluse. Broșură informativă gratuit este disponibil în 5 limbi (engleză, germană, italiană, spaniolă și franceză).
Există o reducere pentru copii?

Nu, dar copii intre 6-14 ani de călătorie pentru gratuit, împreună cu un adult Berlin WelcomeCard cu zona ABC. Copiii sub 6 ani sunt liber, atunci când călătoresc cu un adult plătitor deține oricare tip de card.

Cum pot obține biletele mele?
La scurt timp după ce rezervarea dvs. este finalizată dvs. de e-bilet de avion va fi trimis direct la adresa ta de e-mail. Doar imprimați-l și aduceți-l la oricare dintre mai multe birouri Viziteaza Berlin în jurul valorii de Berlin, și la aeroport, în cazul în care se face schimb de dumneavoastră pentru Berlin WelcomeCard.
Vezi unde birourile Vizita la Berlin sunt
aici!
Ticket categories
Child tickets are free: 0-6 years unlimited, 6-14 years max. 3 children. Please choose ticket number first, then zone and duration. Price depends on selected zone and duration.
Adult (15+)
Opening hours
Berlin WelcomeCard dvs. este valabil pentru fie 48 oră, 72 de ore sau 5 zile.
Book now
Fantastic:
4.6
– 286

reviews
Refundable tickets Refundable tickets
Refundable up to 48 hours before performance date. A cancellation fee of up to 20% pr. ticket may apply
Price Match Promise Price Match Promise
If you find a better price for this product within 48 hours of completing your booking, we will refund the difference in price in full.
Opening hours
Berlin WelcomeCard dvs. este valabil pentru fie 48 oră, 72 de ore sau 5 zile.
What's included?
- Unlimited use of public transportation in either fare zones Berlin AB or zone ABC.
- Card valid for either 48 or 72 hours - or 4, 5 or 6 days.
- Up to 50% discount at over 200 attractions, museums, restaurants and more.
- A pocket guide with tour suggestions and a city map.
- Bring up to 3 children of the age of 14 and under - they travel free of charge.
English helpdesk

+44 20 3870 3444
Need help with your booking? We will gladly answer your questions.